BerliCon WDC - August 3rd to 06th, 2006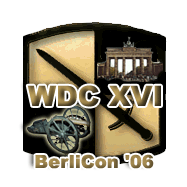 Complete Rules (PDF)

Additional Top Board Rules (PDF)
------
In Brief:

5 rounds including Top Board
Round 3 is also Team Round (3 players per team)
You can play max 4 out of 5 rounds, all results count 100%
Qualification for the top board: the sum of your first 3 results
Scoring system: Modified Squares
Timing: 17min spring / 15min fall until 1909 (= 4h 48min per game)
Note: you can play max 4 rounds, so you have to sit out one round.
Draws: DIAS is permitted, all survivors have to agree in an anonymous vote under supervision of a TD
NMR handling will be strict. However, we are considering warning mechanisms or partial NMR (for example for each 10 seconds you are late 1 unit holds).
------
In Detail:

Round management

We will offer 5 rounds including Top Board and team competition. You can play up to 4 rounds. That means you have to sit out one round.

Round 1 Friday 10am-3pm, registration until 9.30
Round 2 Friday 7pm-midnight
Round 3 Saturday 10am-3pm
Round 4 Saturday 7pm-midnight
Round 5 Sunday 9.30am-2.30pm (including Top Board and team competition)

Award Ceremony: Sunday 3.00-3:30pm

- The Sunday morning round is open to all players. At the same time, it includes a Top Board and a team competition.
- Top Board: the top 7 players of the ranking after round 4 play on one board in round 5. The winner of this board is the winner of the tournament and World Champion 2006. The runner-up of the Top Board is Vice Champion. All other top board players get a bonus. If you are not qualified for the Top Board you can still become third in the tournament, although it is tough!
- Team competition: Several players can form a team, and their individual scores in round 5 will add up to the team score. The best teams will win special prices. Teammates cannot play on the same board.

Scoring of the rounds

You can play max 4 out of 5 rounds. All results count 100%.

Qualification for the top board: the sum of your first 3 results. The top 7 players of the overall ranking after round 4 are qualified. All Top Board players get a 10% bonus on their overall score.

Scoring system: Modified Squares

This system has been tested and proven for many years at Manorcon in Birmingham, for example at WDC 2004, but also at EDC Darmstadt 2004. It is based on the number of centers held in the last game year. The system rewards a high number of centers, playing for balance and topping a board while keeping other players far behind you. There is no bonus for placement.

Solo finish:
A Solo scores 75 points for the winner.
The other players get 0.1 points per year until the year of the solo, resp. until they were eliminated.

Draw finish:
In case of draw or time-out your score (p) is calculated as follows:
- p = c^2 + 4c + 16, where c is the number of your centers at the end of the game.
- Eliminated players get 0.1 points per year they played.
- Finally, the score of all players is normalised (multiplied with 100 and divided by the overall score of all 7 players) so that the sum of every game is 100.

Timing and Drawing

Every game finishes after winter 1909, or when somebody has a solo (18 centers), or when all surviving players agree on a draw.
Draws: DIAS (draws including all survivors) are permitted. All survivors have to agree in an anonymous vote under supervision of a TD.

We will play with central timing, using David Norman's Dip Timer:
17min for spring and 15min for fall = 4h 48min

We will use Manus Hand's Diplomacy Tournament Manager (DTM) for the drawing and scoring. The conflict settings prioritise that you don't play the same country twice, that you don't meet the same player twice and that you play middle countries (A, G, I) as well as other countries. However for obvious reasons it can't be guaranteed that these criteria are always met. In no way you can be on a board with your team colleagues in the team round.

TD contact: vorstand@diplomacy-bund.de