BerliCon WDC - August 3rd to 06th, 2006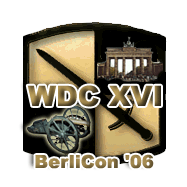 About the hotel
We will have a hotel just for ourselves. The crew will be there all the time to make us feel comfortable.
The hotel is situated in the student quarter and party district Prenzlauer Berg: dozens of opportunities to go out right around the corner, pubs, cafés, bars, and clubs.
Yet the hotel is quiet and cosy. The rooms are upstairs. Downstairs we will have seminar rooms and courtyards to play. If demand suggests we will arrange for a family floor.
------
Game shop
Woody, the owner of Potsdam's famous Galadriel game shop, will have a game booth at the con. Here you will be able to borrow and play, but also to buy the famous German boardgames - classics as well as the novelties of the year. You may stay up all night and play games in the hotel if you like. Before the con we will also inform all players about a mail-order service, so you can order games in advance, pay them at the con and take them home. If you have special wishes for games that you would like to test or buy at the con, just drop us a line: berlicon@diplomacy-bund.de
------
Address
Hotel 4 Youth
Schönhauser Allee 103
10439 Berlin
Tel (+49) 030 4467783
Fax 44677859
www.hotel4youth.de

How to get there: please have a look at the travel page.
------
Our contingent:
8 x 1 bed rooms
12 x 2 bed rooms
20 x 3 bed rooms
8 x 4 bed rooms

You can book 3 nights + tournament for a package price of EUR 89 in a 3/4 bed room, or a little more in a single or double room. These offers include:

comfortable beds and a bathrooms in every room
breakfast (which is marvelous, ask André)
a warm meal (Thursday dinner, Friday lunch, Saturday barbecue)
braodband internet access
tournament fee
For the details see the offer page. Or go to the booking page and book your place at the WDC. There you can even check out which rooms are still available.

Some pictures